Navigate: COCME Home | Best Practices Guide to Teaching and Learning | Educational Resources | FAQs | AAP COCME

---
Committee on CME (COCME)
The Committee on Continuing Medical Education (COCME) vision is to:
Support the development of the Best Pediatric Continuing Medical Education/Continuing Professional Development (CME/CPD) for the Best Pediatric Care.


What does the COCME promote?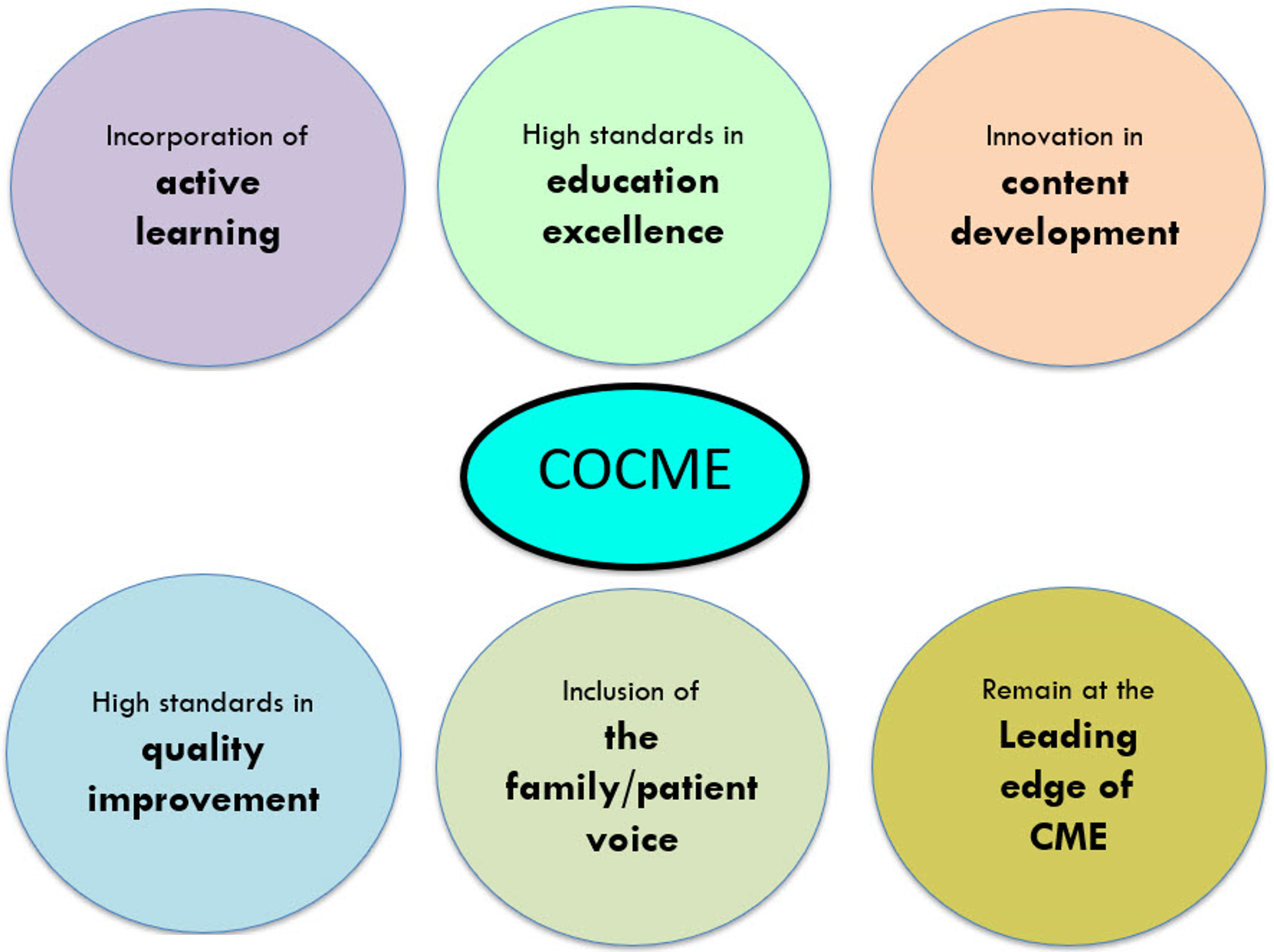 COCME Mission
The COCME mission is to:
Encourage innovation in AAP continuing medical education (CME)/continuing professional development (CPD) activities.
Promote active learning by providing educational resources and guidance to CME/CPD planners.
Support the implementation of the AAP CME/CPD program mission statement: Acknowledging that bias and systemic racism negatively impact our patients, the AAP strives to provide learning that addresses bias, stereotypes, and structural determinants of health. Learning activities are designed to improve competence and professional performance for optimal patient outcomes and reinforce best practices of pediatricians and pediatric health care professionals.

Who Are We?
The Committee on Continuing Medical Education (COCME) includes the individuals listed below.
Click on the member name below to view their bio

Rani Simon Gereige, MD, MPH, FAAP - Chair
Miami, FL

Dr. Gereige has been the Director of Medical Education & Designated Institutional Official at the Nicklaus Children's Hospital (NCH) (formerly Miami Children' s Hospital) since February 2010. In this role, Dr. Gereige oversees the Undergraduate, Graduate, Continuing Medical Education on, and Faculty Development Programs and participates in medical students and residents/ fellows ' education. He also oversees the ABP and ABMS (multi-specialty) MOC4 Portfolio Sponsor Program at Nicklaus Children's Hospital. Dr Gereige also holds a faculty appointment as a Clinical Professor in the Department of Pediatrics at Florida International University (FIU) Herbert Wertheim College of Medicine.

In addition to serving COCME Chair, Dr. Gereige is the CME Editor for Pediatrics in Review and a member of the National Conference & Exhibition planning group. He is a member of the Academic Pediatric Association (APA), the American Public Health Association (APHA), and the Association of Pediatric Program Directors (APPD) and serves as a surveyor for the Accreditation Council for Continuing Medical Education (ACCME). Dr Gereige is also a member of the National Board of Medical Examiners (NBME) Step 2 USMLE Interdisciplinary Review Committee (IRC) and the Scientific Abstracts Test Material Development Committee (TMDC). Dr. Gereige completed in June 2021 a 6-years term, a member of the Accreditation Council for Graduate Medical Education (ACGME) Pediatric Residency Review Committee (RRC) where he served as the Vice-Chair of the RRC.

Dr. Gereige's interests include Oral Health, School Health, primary care Sports Medicine, Public Health, Evidence-Based Medicine and QI, Children with Special Health Care Needs and Sports, and Medical Education.

M. Virginia Barrow, MD, FAAP
Roseville, CA



Dr. Barrow is Chief of Medical Education for Permanente Medical Group in Sacramento Valley. Her program provides educational programming to meet the needs of close to 2000 physicians. In addition to working with every department in our medical center, Dr. Barrow also partners with the Chief of UME and GME to provide education along the medical career continuum. Dr. Barrow also serves as Assistant Chief of her Pediatric department. She has dedicated herself to elevating care through quality education, performance improvement projects, and attention to lean management. She understands the importance of a life-long learning plan and the evolution and progression of the adult learner.

Haidee Custodio, MD, FAAP
Mobile, AL

Dr Custodio is an Associate Professor in Pediatric Infectious Diseases and an Associate Program Director in the Pediatric Residency Program at the University of South Alabama College of Medicine. She received her BS degree at the Jesuit School of Ateneo de Manila University and obtained her medical degree at the University of the East in the Philippines before proceeding to New York for her pediatric residency training at Nassau University Medical Center. Dr. Custodio did her fellowship training in Pediatric Infectious Diseases at the University of Florida in Jacksonville, FL.

Following her fellowship, Dr. Custodio moved to Mobile and rose to the rank of associate professor. She is actively involved in the teaching of residents and students and received several awards recognizing her endeavors. In addition to contributing peer-reviewed papers, book chapters, and review articles, she participates in peer reviews for several pediatric journals and national conferences including the Pediatric Academic Societies Meeting and Association of Pediatric Program Directors (APPD). She also served in the American Board of Pediatrics (ABP) Advisory Panels for Reshaping the MOC Part 3 Exam for General Pediatrics and Subspecialty, as well as in the ABP Pediatric Infectious Diseases Content Development Team. She currently serves as the Continuing Medical Education (CME) chair for the American Academy of Pediatrics (AAP) Alabama Chapter as well as a member of the AAP national Committee on Continuing Medical Education (COCME).

Dr. Custodio loves to travel and explore what the world has to offer, whether it is getting lost in the mountains of Alaska, watching rodeos in Wyoming, or catching red snapper in the Gulf.

Emily Faith Rood Fishman, MD, MSCI, IBCLC, FAAP
St. Lous, MO


Dr. Fishman is an Assistant Professor of Pediatrics and Newborn Medicine at Washington University School of Medicine in St. Louis. She is the medical director of the Progress West Hospital Newborn Intensive Care Unit (NICU). Dr. Fishman is a champion in breastfeeding medicine and is an internationally board certified lactation consultant. She is leading a breastfeeding quality collaborative to improve breastfeeding success and support within the NICU. Within the American Academy of Pediatrics, she is active within the Section on Neonatal-Perinatal Medicine, Section on Breastfeeding and Section on Early Career Physicians. In addition, she serves as the Missouri Chapter Breastfeeding Coordinator. Dr. Fishman is passionate about advocating for early career physicians and integrating their needs with continuing education.

John G. Frohna, MD, FAAP
Charleston, WV

Dr Frohna completed his undergraduate and medical school at the University of Wisconsin. He then went to the University of Michigan to pursue his residency in Internal Medicine-Pediatrics, where he completed a chief residency in Pediatrics. He subsequently became the Med-Peds Program Director at the University of Michigan, a position he held for 10 years. He then served as the Vice Chair for Education and Residency Program Director in the Department of Pediatrics at the University of Wisconsin School of Medicine and Public Health for over ten years. He currently is Professor and Chair of the Department of Pediatrics at the West Virginia University-Charleston Division. He has research interests in the teaching and evaluation of evidence-based medicine, professionalism, and residency education.

Miguel L. Knochel, MD, FAAP
South Jordan, UT

Dr. Knochel is a pediatric hospitalist at Primary Children's Hospital and Riverton Hospital.  He is currently an Associate Professor of Pediatrics (Clinical) at the University of Utah, involved in medical education for learners of all levels. His leadership roles include Medical Director of Riverton Children's Unit and Pediatric Medical Director of Interprofessional Continuing Education (IPCE) at Intermountain Health.  His research interests include Brief Resolved Unexplained Events (BRUE) and telehealth for pediatric traumatic injuries.  An avid consumer of CME himself, Dr. Knochel is enthusiastic about providing meaningful experiences for pediatricians who attend accredited education.
In its work, the COCME also engages liaisons from the Section Forum Management Committee (chairperson), the Section on Early Career Physicians, and the Canadian Paediatric Society.

Emily F. Fishman, MD, MSCI, FAAP
Liaison, Section on Early Career Physicians
St. Louis, MO
Anne B. Francis MD, FAAP
Liaison, Section Forum Management Committee
Rochester, NY
Mark Douglas Messenger, MD
Liaison, Canadian Paediatric Society
Canada
To contact the COCME, please contact: